Welcome to Montana Skullworks!
Skull Cleaning, Whitening & Skull Metalizing
Montana Skullworks has been cleaning skulls since 1992. We offer a museum quality product that will highlight your trophy.
We can also turn your trophy into a truly unique art piece by metal coating the skull in your choice of metals including, nickel-silver, bronze, copper and brass metal skull coatings. We also offer mounting on Oak or Walnut.
Whitened and Metalized Skull Information
Montana Skullworks offers several types of services for skull cleaning, metal skull coating, metal antler coating and mounting options. Browse the links below to learn more about our services and view galleries of our work.
Skull Cleaning is done with beetles, then the skull is whitened, degreased and given a clear coating to protect the bone.
To create a showpiece that will last forever, we can coat your skull in nickel, bronze, silver or copper. Teeth can be covered or left white for a unique look.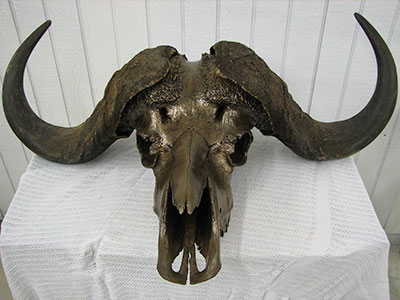 Whitened African skulls and metalized African skulls create a centerpiece that is sure to tell a great story.
Metal coating antler sheds turns a lucky find into an amazing conversation piece and beautiful home or cabin decor.